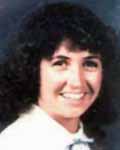 Kelly Bergh Dove
Endangered Missing from Harrisonburg, Virginia since June 18, 1982
Age: 20 -- Hair Color: Brown
Kelly worked at the Imperial gas station on South Main Street in Harrisonburg. The married mother of a 4-year-old daughter, Kelly had finished high school a year early and was registered to attend Blue Ridge Community College in September.
Kelly's three sisters all worked at the Imperial station, then the lone building on an isolated stretch of road about a mile south of the James Madison University campus. On Thursday night, June 17, Kelly agreed to trade with one of her sisters and work the overnight shift.
After midnight on June 18, Kelly called Harrisonburg police to report that a man driving a silver Ford had been harassing her. In a second call, she reported the man had come in and had been "dressed improperly." She'd received a threatening phone call, and when she called police a third time, just before 2:30 am, she sounded panicked. "Please hurry," she said. "He's back."
Police arrived at the station just two minutes after Dove's third call, but they found only her purse and a magazine she'd been reading undisturbed on the counter. Kelly was gone. Investigators considered several people as potential suspects but could never solve the disappearance.
Doe Network
NamUs
Charley Project