http://www.txdps.state.tx.us/mpch_im...l/m0004001.jpg
Missing Woman: Jo Ann Sendejas--TX--12/24/1999
Name: Jo Ann Sendejas
AKA: Jodie
Case Number: M0004001
Case Type: Endangered
Last Seen in: San Leon (Galveston County)
Last Seen on: 12/24/1999
Height: 5' 7 "
Weight: 127 lbs.
Age Missing: 40
Eye Color: Brown
Hair Color: Auburn
Date of Birth: 10/5/1959
Race: White
Sex: Female
State Missing From: Texas
Country Missing From: USA
Circumstances: Ms. Sendejas is missing her front tooth. She wears a silver bangle ring on her right pinkie finger. Ms. Sendejas was last seen leaving her residence on foot. She may have traveled to Texas City, Texas. She may have been intoxicated at the time of her disappearance, and may have injured herself while climbing through a window while exiting her house.
The Doe Network: Case File 2709DFTX
TDPS Case Number: M0004001
NCIC Number: M-920392460
http://projectjason.org/forums/index.php?topic=5502.0
http://www.charleyproject.org/cases/s/sendejas_jo.html
http://www.doenetwork.org/cases/2709dftx.html
http://www.txdps.state.tx.us/mpch/mp...013:48:14PM%27
http://www.nampn.org/cases/sendejas_joann.html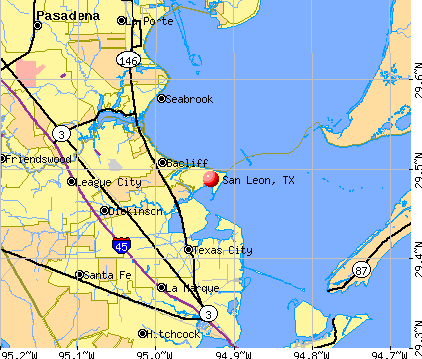 http://pics2.city-data.com/city/maps2/cm6615.png