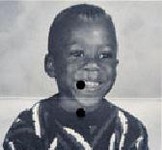 James Dupree Lewis Jr.
Endangered Missing from Lancaster, Pennsylvania since July 28, 1991
Age: 4 -- Height: 3'3" -- Weight: 60 lbs -- Hair Color: Brown -- Eye Color: Brown
James' nickname is Squirt.
James' mother, Debra A. Johnson, and her live-in boyfriend of one year, Maurice Marcell Martin, reported James missing at 8:30 am on July 28, 1991. Maurice stated that he left James in the car while he went into the Giant Food supermarket in Lancaster, Pennsylvania. When he came out a few minutes later, James was gone. An extensive search turned up no sign of him.
Authorities eventually determined Maurice's story about James' disappearance was untrue. He was charged with criminal homicide in October 1991. Debra testified against Maurice at his trial, stating he severely abused James on a regular basis and he also abused her. (Two months after her son's disappearance, she left him and got an order of protection against him.) Neighbors also witnessed Maurice hit the boy. Maurice was convicted of 3rd degree murder in May 1992 and sentenced to 20 years in prison. He will be released some time in 2012.
Charley Project
Doe Network