06-25-2012, 01:54 AM
Mrs. Spencer Reid...yeah, I went there

Join Date: Jan 2005

Location: Ontario, Canada

Posts: 234
CANADA - Casey Rose Bohun, 3, Port Coqulitam, British Columbia, 05 August 1989
---
http://doenetwork.org/cases/310dfbc.html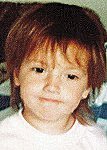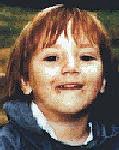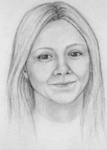 Left and Center: Bohun, circa 1989; Right: Age-progressed to age 20.
Casey Rose Mary Dora Bohun
Missing since August 5, 1989 from Port Coqulitam, British Columbia, Canada
Classification
: Non-Family Abduction
Vital Statistics
Date Of Birth: July 18, 1986
Age at Time of Disappearance: 3 years old
Height and Weight at Time of Disappearance: 3'0; 28 pounds
Distinguishing Characteristics: White female. Red hair; brown eyes.
Clothing: White t-shirt and underwear.
Dentals: Bohun's upper left tooth was chipped at the time of her disappearance.
Circumstances of Disappearance
Casey lived with her mother and mother's boyfriend at a home on 94A Street in North Delta. The indication was she'd been playing on the front steps of the house and that was the last anyone had supposedly seen of her on Saturday August 5, 1989. The neighborhood would have been unknown to the child since her family moved to North Delta from Langley, B.C. a month previously.
Casey's disappearance had a devastating effect on her family. Eventually her mother and stepfather separated and in 2001 her mother committed suicideŁ.
Bohun's biological father who lived in Saskatoon, is the only person who has been ruled out as a suspect after being cleared through the use of a polygraph test.
I've been pondering this case a lot lately - where could this little girl have gone?
__________________
~Mekena Sarah Gracie Carmichael~
2007-2011
West Elgin's Precious Angel
The Following User Says Thank You to CCD For This Useful Post:
06-25-2012, 07:12 PM
Mrs. Spencer Reid...yeah, I went there

Join Date: Jan 2005

Location: Ontario, Canada

Posts: 234
posted June 18, 2007 in the Delta Observer - it has since been taken down
Quote:
In Sgt. Mike Leary's office at Delta police headquarters, a stack of boxes, labeled Casey Bohun, reach the ceiling.

Leary was the last investigator - there have been several over the years - to delve into the troubling mystery involving the disappearance of the little girl.

Bohun was just three when she went missing from her North Delta home on Aug. 5, 1989.

Next week will mark 15 years since her disappearance, an anniversary of sorts the Delta police would like to end. But that won't happen unless the department receives new information that will lead to a conclusion in the case.

While there have been many theories floated since the little red-head disappeared, police believe she could be living elsewhere in Canada or the United States.

"It is possible Casey was abducted and we are seeking national assistance from he public as the 15th anniversary of Casey's disappearance nears," Delta police Const. Paul Eisenzimmer said.

While 15 years have passed, many agencies, including the Delta police that haven't forgotten her.

The Doe Network, as in Jane or John Doe, issued a reminder this week that Bohun is still missing.

"Around the time of the anniversary I've been trying to contact people, newspapers, trying to remind them of the disappearance," said Elizabeth Myers, a B.C. area director for the network, which is based in Louisiana.

The Doe Network, which also includes missing adults, has successfully concluded 21 cases of missing persons in the U.S., Canada, Australia and Europe. It is a volunteer group that assists law enforcement agencies in solving cold cases concerning unidentified victims and missing persons.

Several theories have emerged over the years into Bohun's disappearance. There have been alleged sightings, one which sent another group of investigators to Kamloops and Kelowna in the early 1990s.

But it wasn't until April of 2001 that the case was picked up once again. On that Sunday morning, Casey's mother, Barbara Bohun, 40, leaped to her death from the Patullo Bridge in New Westminster.

Friends say she was distraught over the loss of Casey so many years before and the more recent loss of her other two daughters. Social services took the girls from her over concerns about a disciplining incident.

Police say there was no suicide note.

Out of that incident came a chance for police to interview Bohun's boyfriend, the man who lived with her at the time of Casey's disappearance. In recent years, he had moved to Korea where he taught English at a college.

The boyfriend attended Barbara Bohun's funeral and it was then police investigators interviewed him. That interview raised new questions and police have so far been unsuccessful in their attempts to re-interview him. He is still in Asia, police said.

It was a warm August day in 1989 when Delta police officers responded to a call of a missing child. Casey Bohun lived with her mother and her mother's boyfriend at a home on 94A Avenue in North Delta.

Police were told at the time the couple had returned home the evening before, put Casey to bed and that was the last time they saw her.

A ground search escalated into a full-scale air search of the area. They searched for three days but found nothing. It was as if the toddler disappeared into thin air.

Police did not name anyone as a suspect, but say even today the only person they've ruled out is Casey's biological father, Donald Bohun. Former homicide detective Bill Jackson, one of the investigators who became involved in the file in the early 1990s, eliminated Donald as a suspect after he passed a polygraph test.

Delta police say the file is still open.

"We'd like to talk to anyone who may have information about Casey's disappearance," said Eisenzimmer.

If you have information, you're asked to call Sgt. Mike Leary at 604-946-4411.
__________________
~Mekena Sarah Gracie Carmichael~
2007-2011
West Elgin's Precious Angel
Posting Rules

You may not post new threads

You may not post replies

You may not post attachments

You may not edit your posts

---

HTML code is Off

---
Similar Threads
Thread
Thread Starter
Forum
Replies
Last Post
Found Safe Canada - Melissa Dewitt, 16, Merritt, British Columbia, 4 Aug 2011

Hazel

Located! Information and Support

4

01-10-2012

06:22 AM

Canada - Tamara Chipman, 22, Prince Rupert British Columbia, 2005

Kermode Bear

Missing victims

11

03-28-2011

10:51 AM

CANADA Canada - Brianne Wolgram, 19, Revelstoke British Columbia, 5 Sept 1998

RubyRed

1990's Missing

16

09-24-2010

01:29 PM

Found Deceased Canada - David Koch, 36, Vancouver British Columbia, 25 May 2005

Luanne

Located Forum Discussion

7

06-13-2005

02:17 PM
© Copyright Websleuths 1999-2012
New To Site?
Need Help?

Powered by vBulletin® Version 3.8.1
Copyright ©2000 - 2013, Jelsoft Enterprises Ltd.

All times are GMT -4. The time now is

02:02 PM

.