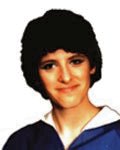 Paula G. Godfrey
Endangered Missing
Missing From: Overland Park, Kansas
Missing Since: September 1, 1984
Age: 19 -- Height: 5'8" -- Weight: 115 lbs -- Hair Color: Brown
Paula was an accomplished amateur figure skater before she disappeared.
Paula was reportedly hired by John Edward Robinson Sr. in Overland Park, Kansas in 1984. She was interested in a business career, and told her family Robinson arranged for her and a group of women to fly to Texas to enroll in courses. Robinson picked her up at her house on September 1, 1984 saying he would take her to the airport for her flight. She has never been heard from again.
Robinson has been convicted of the murders of three women. He is believed to be connected to Paula's disappearance.
Doe Network
Charley Project