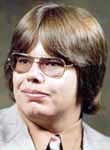 Robert Louis Christian
Endangered Missing
Missing From: Madison, Wisconsin
Missing Since: September 16, 1977
Age: 18 -- Hair Color: Brown
Robert's nickname is Bob. He wears eyeglasses.
Robert went missing during a trip from Madison to Baraboo on September 16, 1977. That evening, he had dinner with his parents at their Madison home. After eating, he tossed a change of clothes and his bow hunting gear into the back of the Hornet station wagon at about 5:30 pm and headed to the bank. After picking up $25, he planned to drive to Baraboo and meet a friend, local resident Randy Griffith, for Saturday morning deer hunting in the Baraboo Bluffs. If they were not successful taking a deer, Robert planned to return to Madison that afternoon and attend a Wisconsin Badgers game.
At about 9:30 pm, Griffith's mother, a longtime family friend, called to say Robert had not arrived in Baraboo. Robert's family began calling authorities in Dane, Sauk, and Columbia counties to find out if Robert had been involved in a car wreck. They also called the Madison police, who eventually took a report on the disappearance and conducted an investigation.
At about 10:00 pm, a Mauston woman visiting a nun near the Durward's Glen retreat site encountered a car in her friend's driveway that matched the description of the Hornet and had the same license plate. The young male driver of the car matched Robert's description and told the woman something like "I'm looking for my friend. I'm supposed to meet my friend." The young man said he must be at the wrong place and then drove away to the east, away from the relay tower.
Robert's vehicle was later recovered parked in a driveway near the State Patrol relay antenna on Tower Road southeast of the city. The wheels, tires and the battery was gone.
The Sheriff's Department followed up on a tip and found four old tires and the hubcaps from the Hornet in a quarry just south of the Badger Army Ammunition Plant and north of Prairie du Sac. Apparently, somebody had switched the tires from the new car for worn-out tires on their vehicle and then dumped the hubcaps. It is unknown if the stripping of the car and Robert's disappearance are connected, or if somebody found the Hornet after he disappeared and took what they could.
The Sheriff's Department brought in a bloodhound that followed Robert's trail a short distance from where he car was found, then lost the scent at Tower Road. They also used a National Guard helicopter to search open fields in the area. Robert was never found.
Doe Network
Charley Project