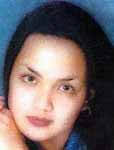 Jeanette Gomez Espeleta
Endangered Missing
Missing From: Fullerton, California
Missing Since: July 17, 1998
Age: 20 -- Height: 5'4" -- Weight: 130 lbs -- Hair Color: Brown -- Eye Color: Brown
Jeanette's name may be spelled Janette. She has scars above her right eye and on her forehead. She has breast implants.
Jeanette was last seen July 17, 1998 in Fullerton, California when she left work at a Santa Ana bank. She was about to move in with her Moreno Valley family when she disappeared. Friends said Jeanette, who attended Valley View High School in Moreno Valley, always kept in touch with family and friends and was a creature of habit who worked, hung out with her friends at the gym, and spent nearly every weekend with her family in Moreno Valley.
Foul play is suspected. Police believe that Jeanette was kidnapped on July 17 between 2:00 and 7:00 pm. They think she was then shot to death and her body was kept overnight at an undisclosed location. The next day, the body was wrapped in chains or a rope. The body was placed on a boat rented from a company in Irvine and towed to Long Beach. Jeanette's 1996 silver Honda was driven near Rosarito Beach, Mexico, and set on fire. The father of her unborn child was arrested as a suspect in the case, together with 2 other men.
Doe Network
Charley Project