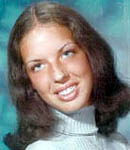 Marie Elizabeth Spannhake
Endangered Missing
Missing From: Chico, California
Missing Since: January 31, 1976
Age: 19 -- Height: 5'5" -- Weight: 110 lbs -- Hair Color: Brown -- Eye Color: Green
Marie's nickname is Marliz.
Marie disappeared on January 31, 1976, from a Chico street. She and her fiancé went to the flea market inside the Eagles Hall at 19th and Mulberry streets. They got into a fight and Marie left, first asking directions home as she wasn't quite familiar with her new town, where she relocated from Cleveland, Ohio, in December 1975. She headed out on foot. That was the last anyone saw of her.
Her fiancé filed a missing-persons report February 2. He said nothing was missing from the apartment, clothes were as they should be, toothbrush and suitcases still in place.
Convicted kidnapper Cameron Hooker's wife named her husband as the kidnapper and killer of Marie in 1984. Mrs. Hooker told police that she and her husband picked up Marie as she was walking home. They allegedly drove her to their Red Bluff home, where she was apparently tortured and murdered. Cameron Hooker was found guilty of the kidnapping and rape of another young woman, Colleen Stan, and sentenced to 104 years in prison.
Marie has never been located.
Doe Network
Charley Project