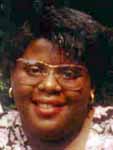 Margo Ann Register
Endangered Missing from Crystal River, Florida since January 4, 1994
Age: 19 -- Height: 5'4" -- Weight: 210 lbs -- Hair Color: Black -- Eye Color: Brown
Margo may go by her middle name, Ann. She has scars on both wrists as a result of suicide attempts. Her ears are pierced. She wears eyeglasses.
Margo has been missing since January 4, 1994. She was last seen by her husband, Willis Register, who, in 1995, was being held on an unrelated murder charge. He said that he last saw Margo at the A to Z Beverage Store on Highway 44 in Crystal River, Florida, around 2:30 pm on January 4, 1994 and believes that she went to Washington DC.
Register told police he and Margo had been arguing off and on most of the day. He said he went inside the store to get change for the pay phone located outside the store and when he returned his wife was gone.
Register said he had tried to dump Margo and he figured the only way to make her leave him was to crush her self-esteem. He said on that day outside the store, he attacked Margo with a barrage of verbal insults. Then he went inside the store to buy a beer and said that when he came back about five minutes later, his wife of 10 months was gone.
Margo disappeared at the coldest time of the year with no money, no transportation and no change of clothes. She has no high school diploma, no training and no work experience. She has not been seen or heard from since that time. Foul play is suspected.
Doe Network
Charley Project