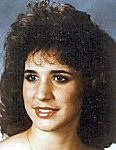 Cassandra Lee Hailey
Endangered Missing from Newport News, Virginia since April 10, 1988
Age: 18 -- Height: 5'7" -- Weight: 135 lbs -- Hair Color: Brown -- Eye Color: Brown
Cassandra's nicknames include Sandra, Sandy, Missy, and Cassie/Cassy. Her ears are pierced multiple times.
Richard Keith Call
Endangered Missing from Newport News, Virginia since April 10, 1988
Age: 20 -- Height: 6'0" -- Weight: 150 lbs -- Hair Color: Lt. Brown -- Eye Color: Blue
Richard goes by his middle name, Keith.
Richard picked up Cassandra from her home for their first date. They planned to spend the day together. They were last seen at a party in Newport News, Virginia at 1:30 am on April 10, 1998.
Richard's vehicle was found abandoned at the York River Overlook in Yorktown, Virginia at 7:00 am that same day. Nothing appeared to have been disturbed. Nearly all of the clothing Richard was wearing was found in the back of the car, as was some of Cassandra's clothing. Richard's wallet and Cassandra's purse were missing, though.
There was no trace of either one of them at the overlook. Authorities initially believed they had gone swimming and drowned, but an extensive search of the river turned up no sign of them. Foul play is now suspected. Authorities believe a serial killer stalked and killed in that region from 1986-1989.
Doe Network
NamUs
Charley Project