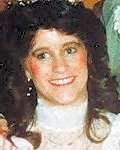 Elizabeth Ann Pfeifer
Endangered Missing from Katy, Texas since April 12, 1986
Age: 20 -- Height: 5'2" -- Weight: 110 lbs -- Hair Color: Brown -- Eye Color: Blue
Elizabeth has a tattoo of a red rose with the name "Dave" printed underneath the flower on her left shoulder.
Elizabeth was last seen in Katy, TX on April 12, 1986. She lived with her parents. She left home in the early evening to attend a party in North Katy with five friends. While there, Elizabeth became very drunk. Around midnight, she left the party with an unknown man. Her friends knew she was leaving, but they did not know the person she left with.
Elizabeth's parents reported her as missing four weeks later. She didn't take her purse with her, containing her ID and personal information, including money. The man that Elizabeth left the party with was found and questioned, he told the police at that time that he had left the party with Elizabeth. He took her to his apartment in Houston, and then took her back to Katy. He said that they stopped at a gas station on North Mason Road, and as he was filling up his vehicle with gas, Elizabeth left him. Her case remains unsolved.
Doe Network
Charley Project