http://profile.myspace.com/index.cfm...ndid=418165125
http://icaremissingpersonscoldcases.yuku.com/topic/800/t/Unidentified-female-found-in-1983-in-Broward-County-Florida.html
http://doenetwork.org/cases/428uffl.html
The Doe Network:
Case File 428UFFL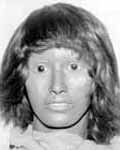 Reconstruction of Victim
Unidentified White Female
<FONT color=black size=2>
The victim was discovered on September 19, 1983 in Broward County, Florida
Estimated Date of Death: Two to four weeks prior to discovery.
Partially decomposed / skeletal Remains
Homicide Victim, Strangled
Vital Statistics
<FONT color=black size=2>
Estimated age: 15-19 years old
Approximate Height and Weight: 5'0"-5'3"; 100 lbs. Small to medium build
Distinguishing Characteristics: Possibly Native. Medium-length brown/auburn hair. Eyecolor unknown. May have walked with a limp. She was wearing red or purple toenail polish. May have had a colostomy.
Dentals: She had a marked overbite and extensive dental work, including several fillings.
Clothing/Jewelry: There was no clothing or identification near the bones, suggesting that her killer dumped her body nude. A gold chain with a seashell was found nearby.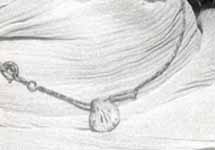 Shell Necklace
Case History
A trucker discovered the victim along a canal on a remote stretch of U.S. 27 , 8 miles North of State Road 84, in West Broward County, Florida on September 19, 1983.
The driver stopped briefly along U.S. 27, noticed the bones and some hair behind a railing, and contacted police.
Investigators
<FONT color=black size=2>If you have any information about this case please contact:
Broward County Sheriff's Office
954-321-4240
or
Florida Missing Children Information Clearinghouse
1-888-356-4774
You may remain
anonymous
when submitting information.
NCIC Number:
U-717148363 <FONT color=black>
Please refer to this number when contacting any agency with information regarding this case.
Source Information
:
Florida Missing Children Information Clearinghouse
Miami Herald, The (FL) July 8, 1984