">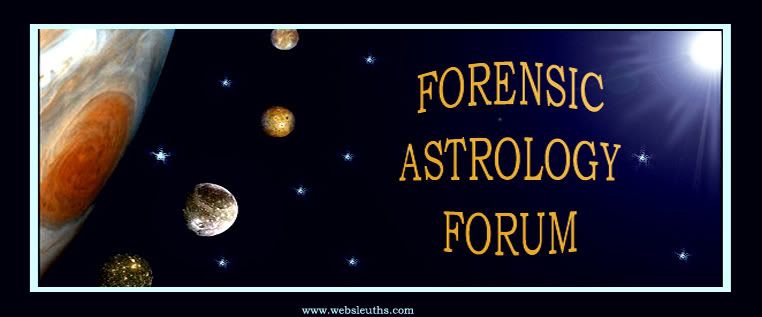 Welcome!
We are proud and excited to announce the launch of the Forensic Astrology Forum here on the Websleuths site. Many thanks and much appreciation to Websleuths owner Tricia Griffith and the Websleuths team of Moderators and Technicians for making this possible.
The Forensic Astrology Forum is a place for those who are interested in Astrology to gather and discuss any Missing Persons case or Crime in the News.
Readers who wish to request the Astrologers discuss a particular case or crime from a forensic astrological perspective are invited to post their request on the
Forensic Astrology Requests Thread
, and include details such as date/time/place of Last Seen, date/time/place of Police Report, birth information on key players in the case including the victim; etc. Requests should also include a link to the Thread where the case is being discussed non-astrologically.
Our House Astrologers will review the
Forensic Astrology Request Thread
at regular intervals and, time permitting, respond to Reader requests.
Please know that our Astrologers are consumed with charting and the analysis of missing persons, cold cases and crimes, therefore we ask you do NOT request personal charts or submit questions regarding personal issues.
We welcome ALL to post in the Forensic Astrology Forum and trust you will do so in a respectful and open-minded manner. Each Astrologer who contributes to this Thread does so from his or her own unique background, skill set and experience. Astrologers will make every effort to collaborate in a harmonious fashion and add to each other's insights and judgments.
Our Astrologers' primary purpose and goal is to use their combined astrological talents to help solve crimes. We hope and trust you will find the Forensic Astrology Forum to be an interesting and informative resource, as well as a valuable addition to your investigative toolbox.
Respectfully,
Your Lead Astrologers~
HouseMouse, Soulscape, Tuba, Kaitland and Neptunian assisted by FifthEssence,
as well as other fine Astrologers who will be contributing to our discussions from time to time.