Joined

Dec 21, 2018
Messages

9,991
Reaction score

71,887
Tulip Break.

Just saw this. "Ethan's Smile" tulips are offered again. Ethan's family is going to volunteer at Tulip Valley Farms for a bit in April.

"

Starting in April

, Tulip Valley Farms will offer the "Ethan's Smile" tulip bulb mix."

MOUNT VERNON, Wash. - Stacy Chapin says life without her son Ethan just won't be the same.

www.kxly.com
Nice, I'm Nobody!
Bulb mix will ship in the Fall of 2023. Yellow and white tulip bulb mix Each Set comes in bundles of 25
tulipvalley.com
In the fall of 2022 we were approached about creating a tulip mix in honor of Ethan Chapin, a native of Skagit Valley.
tulipvalley.com
Ethan's yellow and white tulips: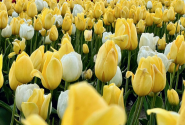 Ethan was a beloved citizen of Conway and Mount Vernon, that like so many other local kids, worked in the fields that make Skagit Valley so spectacular. While working the 2021 Tulip Festival on Andrew's crew Ethan set the bar for showing up with a smile and making everyone else happy to be on the job, regardless of the weather or the work.
As a strong kid with a big heart, Ethan was the kind of guy who would do the hardest jobs and never complain. Usually, with a smile on his face.
After Ethan's death, his friends and family reach out to Andrew to see if there was something they could do to memorialize Ethan's beautiful life.
"We couldn't name a tulip after Ethan because that's actually really bureaucratic and involves a lot of international organizations," Andrew said. "But what we came up with is even better, I think."
What they came up with is the Ethan's Smile tulip bulb mix in his honor. This mix of yellow and white tulips has already been planted in several areas around Skagit Valley, meaningful to Ethan and his family, as well as the University of Idaho.