Joined

Feb 21, 2013
Messages

6,619
Reaction score

34,820
Interesting point

ch_13.

As I was reading your post, "restaurants" popped into my head. In my area (regional south=eastern Australia - where wild mushrooms are common) there is a restaurant which frequently mentions in their publicity, that they offer meals containing

foraged ingredients

.

It seems, (I am happy to be corrected) that establishments which offer meals containing foraged ingredients, are considered to be rather trendy (up until now anyway).

An extract from a local restaurant's publicity (with identifying details and location removed) states -

"Paying homage to locally grown and foraged foods, stop into our new restaurant

(name and locality deleted),

for an intimate dining experience. A moody vibe of subdued lighting,..."

Any thoughts about this, Websleuthers?

TIA
Great expansion on a theory, jj. Chefs are known to want the freshest ingredients for their dishes. I don't think they forage for mushrooms but could be wrong on that. However, onions, garlic, scallions, edible flowers such as pansies can be foraged when in season. Rinse, serve and eat. Same goes for wildflowers with each having their own season. They're used as spices and in side dishes. Flowers in the photo are native wildflowers in Perth, AU.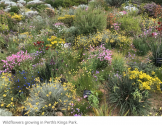 click photo to enlarge
Saltbush, wattle seeds, dune spinach
Oh, are you suggesting, perhaps, that the 4 luncheon guests dined at a restaurant after departing Erin's place and became ill because the Chef foraged DC mushrooms? But, Erin is the only suspect to be named by the Police because the mushroom meal was prepared, served and eaten in her home.
Besides, if Police thought for a minute that a restaurant may be serving Death Cap mushrooms they'd have it shut down and the owner/chef/staff would be under immediate investigation.