Joined

Jan 9, 2009
Messages

5,053
Reaction score

7,296
Police searching for missing woman in Selma
Family pleads for help finding missing Selma woman, offers $2,000 reward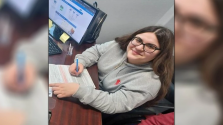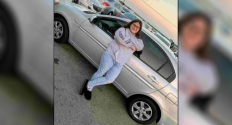 SELMA, Calif. (FOX26) — A Selma family is searching for a 22-year-old woman who's been missing for days now.
"Find my granddaughter. My son's daughter," pleaded Earl Fuentes Tuesday evening.
Jolissa Fuentes was last seen Sunday at 4:00 a.m.
"If you're listening, we love you baby, and we're praying for you," added Jolissa's grandmother, Irene Fuentes, who she lives with.
Her family says she was out with friends until around 3:00 a.m. and then stopped by home. From there, she went to the AM/PM on Nebraska Ave in Selma by the 43. Surveillance video captured her buying a snack there at 4:06 a.m. and then driving down Nebraska Avenue.
Her family says she may have been going to nearby orchards, where she and a recently deceased friend used to hang out. She would still go there sometimes to reflect and hang out, her family explained.
She called her sister at 4:00 a.m. which would have been right as she was headed to purchase food. She called again twice at about 5:30 a.m. but her sister was asleep.
"As soon as I got out of church, I texted her and said, 'Jolissa, where are you? This is grandma, give me a call,' and nothing. I texted her again, and nothing. That's not like her. She always texts me back and says, 'Grandma, I'm okay, I'm fine, I'll come home.' She never came," said Irene Fuentes.
That was the last contact Jolissa made with any of her family or close friends, and her phone now goes straight to voicemail when anyone calls.
Her car, a grey 2011 Hyundai Accent with the license plate number 8MPU766 is also missing. It's in stock condition with tinted rear windows.
The Selma Police Department considers this a missing person case and has not said anything about foul play so far. Fuentes' family says she does not have a history of leaving, and to not return and not call for this long is extremely out of the norm for her.
"We know Jolissa's character. You know? We know her character so good, there was no question with none of us," said Jolissa's father, Jose Fuentes.
The Selma Police Department says it's supporting the family and looking into any leads it can get in this active missing person investigation. If you have information on Fuentes that could help the police or if you think you see her, call the Selma Police Department at (559) 891-2252. This is case number 22-3386.
"It hurts because I feel helpless. So helpless. I've never felt like this," said Earl Fuentes.
"Come home, baby," added Jolissa's mother, Norma Nuñez. "We need you, we want you over here, and if somebody has her, please let her go. Please let her come home."
You can also call Detective Richard Figueroa at (559) 891-2243 or Detective Matthew Hughes at (559) 891-2266. You can also email
[email protected]
or
[email protected]
.
The family was
offering a $1,000 reward
for information that leads to Fuentes being found. That reward has since been doubled to $2,000.
Find Jolissa Fuentes Facebook page
(approved by WS Admin)
Last edited by a moderator: