The last known photo of Frank Gruben at the snake pits in Fort Smith. (Submitted by Steven Gruben)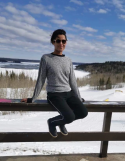 Jenna Dulewich
· CBC · Posted: May 26, 2023 lengthy article.
The oldest of his siblings, Gruben — a Gwich'in Inuvialuit who was born and raised in Aklavik, N.W.T. — is described as someone who loves learning, teaching Gwich'in, and making people laugh with his silly gestures and behaviour.
Gruben is currently
missing from Fort Smith, N.W.T.
No one has seen him for the last 20 days.
"I just really wish and hope that someone would come forward if they have any information regarding what happened to my brother or the whereabouts or where we could find him," said Steven Gruben, Frank's brother.''
Frank was in Fort Smith attending post-secondary school at the time of his disappearance. Steven said his brother left Aklavik last August. As far as the family knew, Frank was enjoying his time in the South Slave and spoke about making it his home.
"We thought he had really good friends and everything there, so we never really thought anything," Steven said.
Frank's mother was the last immediate family member to speak to Frank, Steven said. She last called him on May 3, the day before Frank turned 30.''
''Deeply involved with his culture and a member of the 2SLGBTQ+ community, Steven said his brother loves his elders, had the most fun on the local radio station in Aklavik, and is an inspiration to his baby sister Kimberlyn.
"Frank was a kind-hearted, handsome young man. Always willing to help anyone who asked for help," Steven said''
As the search continues, the family is sending out a plea to anyone with information to come forward.''
"There's so many people that are heartbroken, and many, a lot of them, miss my brother — including me. I just want him home," Steven said.
Anyone with information about Frank Gruben is asked to call the Fort Smith RCMP at 867-872-1111 or
Crime Stoppers
at 1-800-222-TIPS (8477).''