While Maple Leafs superstar Mitch Marner been on the receiving end of some rough play on the ice, this is a whole new level of disgusting.
torontosun.com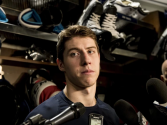 The all-star playmaker, who wears No. 16 with the blue and white, was the victim of a carjacking at gunpoint on Monday night.
"It happened at the Cineplex theatre on The Queensway," said a police source.
Toronto Police tweeted about a carjacking at The Queensway and Islington Ave. at 7:46 p.m., saying a man was robbed of a Black Range Rover by three suspects with the use of two handguns as well as a knife.''
Const. David Hopkinson said "the suspects have fled in the Range Rover."
''According to a source, Marner was going to a movie with a friend when "the guys approached wearing masks and said they wanted the vehicle. Mitch said, 'go ahead and take it."'
Carjackings and muggings have been on the rise in recent times, as have car thefts. And the thieves have become extremely violent in their fleecing of the vehicles.''