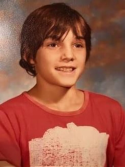 'Stéphane Gauthier was kidnapped on his way to meet his mother and her boyfriend in Montreal's Plateau neighbourhood on Dec. 21, 1982. (Meurtres et Disparitions Irrésolus du Québec)'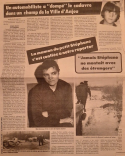 'Newspaper coverage of Stéphane Gauthier's1982 murder. On the day he went missing, Gauthier had gone shopping with a friend. The pair were reportedly followed by a vehicle on the way back to the friend's house on Messier Street. (Meurtres et Disparitions Irrésolus du Québec'
Very lengthy article.
Oct 24 2022 rbbm.
The 12-year-old was kidnapped from Montreal's Plateau neighbourhood on Dec. 21, 1982.
His naked body was found two days later in a field in an Anjou industrial park. Gauthier had been sexually assaulted and strangled. No one was ever arrested.
Gauthier's half-sister was 15 when he died. CBC has agreed to keep her identity confidential to protect her family's privacy.
"I never felt safe," she said. "I was scared for my daughter because I knew it wasn't just something that happens to other people."
She has always worried there were more victims.

"He (the killer) was never caught," she said. "How many people did he hurt afterwards?"
....
''Unlike the Sûreté du Québec, which recently revamped its cold case website to make it more user-friendly, the SPVM does not have an up-to-date, searchable cold case website.'
'
Except for a few rare instances, it has shied away from using social media to publicize old cases.''
''DNA may hold the key​
The families of murder victims will be watching too.
Although there was some media coverage of Stéphane Gauthier's murder initially, his sister feels it got lost in the commotion of the Christmas holidays that year.
She's reached out to police investigators several times to see if there was any progress on the file.
About 15 years ago, she says she met with investigators and crime scene DNA was tested against a potential suspect, but it was not a match.

She has no idea if the DNA in her brother's case has been retested since.''