Joined

Feb 6, 2019
Messages

2,594
Reaction score

13,898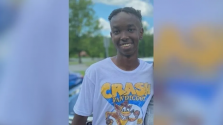 Have you seen him? Yaron Kathuri was last seen Wednesday morning and police found his vehicle later at Arbor Place Mall.
www.fox5atlanta.com
Douglasville
police need your help finding a 17-year-old boy who has been missing for days.
Officials say 17-year-old Yaron Kathuri was last seen around 8 a.m. Wednesday on the 5800 block of Chapel Village Court. His parents thought he was headed to school.
The vehicle Kathuri was known to drive was found later at Arbor Place Mall.
Meanwhile, his parents are trying to stay positive. They're asking for the community's help in bringing him home.
"Everything is possible. We are praying and trusting," his mother said.
A search party descended on the teen's neighborhood on Chapel Village Court in Douglasville Saturday night.
"He is a fun-loving kid, he never got into any trouble," Yaron's father, Andrew, told FOX 5 Atlanta.
Yaron's father said his son recently battled depression and suicidal ideation.
"He had texted his friends. He said that 'I'm sorry.' That he's 'tired of life'," his father said.
The car was found abandoned in the mall parking lot the next day. Loved ones say police pinged his phone to the area that Thursday.
"If he walked into the mall, what direction did he go to? Did he meet up with somebody? Those are the questions we have," his father said.
The missing teen is described as 5-feet-10-inches tall with a weight of around 123 pounds. He has black hair and brown eyes.
The last thing the teen was known to be wearing was a white NASA hoodie and light blue jeans.
Yaron's family members said they just want a sign that he's okay.
"Every day counts, and we want Yaron home. We love him, and he has been the boost son. His brother here is just lost without him," his mother said.
Investigators tell FOX 5 Atlanta the search remains active.
If you have any information about where Yaron could be, call Douglasville detectives at 678-293-1823 or email
[email protected]
Yaron Kathuri was last seen Wednesday.
www.11alive.com