Joined

Mar 7, 2018
Messages

64
Reaction score

146
A few things I have been thinking in the last 24 hours -
The knife: Just because the store manager called it a "rambo" style knife - it doesn't sound like that would be a professional police officer's description... maybe they inquired about a "Ka-bar"
style
or "Ka-bar"
brand
. We were not privy to the conversation and this could be the clerk / manager's interpretation in their own heads.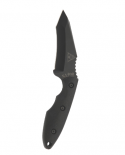 Something more like this, would be concealable, lightweight and portable enough for a woman to use
and
could do a lot of damage to a sleeping or passed out person and it would still be too late to react/escape. Reading reviews from knife enthusiasts, this style is the perfect "EDC" or "every-day carry" which definitely could indicate that the intruder was acting on impulse (though I do personally believe it was someone who had been in the house prior).
The house:
In some states it would not even be legal to rent this house because of the way it is constructed. It would not pass fire codes which require certain things like, 2 ways of egress from the third story to the ground level. It might even require two staircases, since it covers three levels, one to the main level, and one to the parking level. There is only one entrance/exit on each floor as well, so even if the victims could react and attempt to escape, there was truly no where for them to go once they were cornered.