Joined

Mar 25, 2012
Messages

3,133
Reaction score

2,155
Joseph Scott Morgan, help!!

To my knowledge, and PLEASE someone correct me if you have information, ejecting an unspent round from a magazine leaves no marks that conclusively tie it to a specific magazine or a specific gun. In fact, I have an extra clip for each of my handguns. I've ejected rounds from my extra clips without those clips ever coming in contact with the guns, not with those rounds in it. Exactly when was this round discovered? Was his gun registered? It took how many years to narrow down a suspect list, and they had this bullet?? That makes no sense. Rounds don't just jump unspent out of a clip. No gun shot was heard. And a suppressor, in my very novice opinion, would render a round useless for comparison without having the gun and the suppressor. Even if a comparison could be made, what bloody idiot keeps a murder weapon and puts it back in its usual spot?

Nothing about his behavior is indicative of guilt, behavior in 2017 or 2022. On the other hand, the secrecy insisted upon by the state, contending that minors would be at risk even if the redacted PCA was released, leaves much to be desired. IMOO, evidence in the PCA was so thin, I don't see how the search warrant was secured in the first place. Further, if their PC was so strong, why did they need to wait, what, 10 days after executing the search to arrest him? (Especially when a witness now comes forward to say she saw a man "resembling" RA walking toward a car "resembling" the Ford Focus he owned.) Now that the 5'8"-5'10" suspect is revealed to be a 5'4" male who doesn't look a thing like either sketch, how is it that people suddenly have such a clear recollection that that are certain they saw RA? And RA's memory is the one with which some people take issue? How many times since 2017 did his accusers hear his voice, see his face?

And the more they keep saying it was a good idea to release both sketches and that the case is still very active, the more innocent RA appears. This case has been one Charlie Foxtrot after another. I hope they've got a mountain of evidence; otherwise, Mr. and Mrs. RA are going to own Carroll County. Equally tragic would be the justice delayed for A,L and their families.
Thanks for the information.

So if there's already around in the chamber, and the user "draws the slide," then the bullet that is in the chamber is ejected, and a different round goes into the chamber?

Do you know of any visual aids that would make the process clear? I've never owned a gun, so I'm not clear on where the bullet is being ejected from. Does it pop out the back of the gun, towards the user? I'm wondering how feasible it is that RA could have ejected a round without noticing that he had done so.
Yes - the ejection is from the side of the gun - so it ejects away from a right hander.

This is not something you do by accident. You work the slide with the intention to eject a faulty round and reload, or to clear the chamber of ammo
Coincidentally, I happen to have a .40 S&W Sig P226... Kind of feels a little weird now. But:
The full firearm with magazine ejected: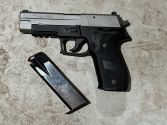 Firearm loaded with extractor circled (and serial blacked out):
Close-up of extractor hooking onto the flared end of an unspent round (circled):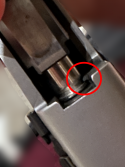 The extractor theoretically leaves tool marks on the unspent round that are unique to that extractor and firearm, especially if it is an older firearm that has very unique extractor wear from years of use.
JMO