Joined

Jan 25, 2023
Messages

2
Reaction score

5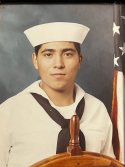 My brother has been missing since December 5, 2022. Last I spoke to him. Our mother passed away in July 2022. So he would always communicate with me. When he gets to El Paso, He would park his truck at his job and cross over the border to visit with he still called "family." His ex wife did not wait to come over to the states, so she lived in juarez mexico. In 2021 he was divorced from her. At that time he got DNA test done on the two children he always called his own. The kids turned out not his biological children. Since then he always would still help the children, but the woman always threatened him, never enough money, never enough help. He took the children and her off the health insurance since they were not his children.
On December 5, 2022 he had called us saying the boy got into a serious accident working for the pepsi company out of mexico somehow hurt his hip needed medical attention but no health insurance no money. So my brother turned his truck into the company in El Paso texas. Said he was going over the border to help with this young man.
On December 20, 2022 I called Mesila Valley Transport to see if my brother had shown up for work, the last they had heard from him was December 6,2022 when he turned in his truck. So i figured i would give him time to call me on Christmas he did not call me on christmas. On December 26,2022 i called El paso texas police department, and they would not take the case because i reside in oklahoma city ok, and that i need to call oklahoma city police department. Oklahoma city police department came to my home december 26, 2022 to file a missing persons report. Report number is 2022-0092515. On december 29,2022 Decective Mitchell from oklahoma city police department said they cannot have this case. Asked me to call back to el paso texas because the missing person resided in el paso texas and thats where i should make the report. El paso has still not taken the case. Until then i contacted boarder patrol, veteran affairs, and FBI. Veteran affairs said he has not picked up his medicine for diabetes he is also on a breathing machine every night for sleep. FBI called and still said El paso police department still has to handle this. Called el paso police department at pebble hills missing persons unit still told me call oklahoma city police department because thats where I live. Me calling and calling detective michell from oklahoma city police department gave me a name Sgt. Commacho which he has not gotten ahold of me. Me still calling an calling another department spoke to a dispatcher valdez and she took a missing persons report. Finally out of el paso case number 230101 and gave me the detective section missing persons phone number 915-212-8317 no one has called me since January 3, 2023.
So the mexican embassy i called next thats the direction the border patrol sent me. They have been working with me since january 3, 2023 to the point they found a body and want me to go to mexico. I sent pictures, they insist on me being in mexico, by the time i file to get my passport it takes awhile. They insist on me still going without the passport, ive never been to mexico so the guy handed the case to someone else and the guy said he was in el paso but got an email saying he was looking at the wrong case he apologize, that my brother is in juarez mexico at the mortuary and needs to be identified.
Manuel Edward Baquera 3-31-1967
born in oklahoma city ok united states navy veteran.
Mesila Valley Transport Human Resoruces Melony Robinson 719-888-6693
El paso police department Oliva Valdez 915-212-8394
El paso police department detective herrera 915-212-0157
Mexican police department -01152 656 7370500
Mexican embassy Israel -01152 656 1765312