Joined

May 24, 2022
Messages

399
Reaction score

2,543
Vermont Authorities Looking For Family Living With Ezra Miller | Crime News (oxygen.com)
Police Looking for Mom, Her 3 Kids Who Were Staying with Ezra Miller (people.com)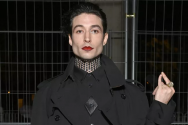 From Oxygen:
The Vermont State Police tried to serve a mother, who has been reportedly living with Miller at their Vermont farm (Miller goes by they/them pronouns) along with her children, an emergency care order over the weekend, according to court records viewed by
Rolling Stone
.
<modsnip - copyright violation>
The emergency care order would require the woman's children — ages 1, 4 and 5 — to be taken away from her custody and away from the home. Miller allegedly told authorities that the mother and her children left the rural Stamford farm months ago but the Vermont State Attorney's office believe they could be trying to "evade" the emergency care order,
according to the court records reviewed by Rolling Stone; they noted in documents that Miller's claim "contradicts information" they had.
<modsnip - copyright violation>
According to Rolling Stone, the order states that "remaining in the home is contrary to the child's welfare" and that the children's "safety cannot be reasonably assured" if they continue to be "in the custody of the child's parent, guardian or custodian."
<modsnip - copyright violation>
From the People link:
The father of the three children told Rolling Stone in June that he was concerned for their wellbeing, claiming that guns and marijuana were easily accessible to them at the Justice League actor's farm. The mother, meanwhile, told the outlet Miller, 29, has "helped" her get away from what she described as an "abusive ex" and expressed gratitude for having a "safe environment." She said Miller's farm was "a healing haven for us."
<modsnip - copyright violation>
Last edited by a moderator: