Joined

Aug 23, 2018
Messages

274
Reaction score

2,023
I made a
Google My Map
to help me visualize the data points provided by the family page. The Kiamichi river runs north of Hugo, OK, and feeds into Hugo Lake. I'm not sure exactly where Caitlyn's car was found in proximity to Kiamichi.
From what I've gathered from the family page, her last known location before the car was located is the ping to her phone which last pinged at the Kamaichi River location on August 5th at 11:56 pm.
There is a time gap from her last pinged location in Cunningham, TX, departing at 6:59 pm on August 5th. Her car came to its final resting place on the same day at 11:56 pm. Even without knowing her exact location in Hugo, getting to the city of Hugo from her last known place in Cunningham is just a 56-minute drive. So she theoretically would have arrived in Hugo by 8ish. Her car was found at 11:56. Whatever happened in that nearly four-hour timespan in Hugo is critical.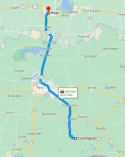 I don't know if the family can provide details on those four hours in Hugo and where the car was found. CCTV may be of assistance here if we can determine where her car was found.