Verified Certified Fraud Examiner and CPA
Joined

Dec 31, 2019
Messages

1,140
Reaction score

6,605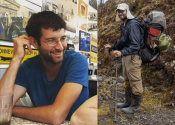 (Photo from the following link.)
(KRON) — A search is underway for a Stanford professor who went missing in Washington's Olympic National Park, the National Park Service said Friday. Hunter Fraser has not been heard fr…
www.kron4.com
Hunter Fraser left his vehicle at the Deer Ridge Trailhead on June 5 and planned on completing a 40-mile trek with two overnights, but he never returned.
komonews.com
Stanford biology professor Hunter Fraser has gone missing while on a 40-mile, two-night, solo hike in Washington's Olympic National Forest. He began the hike on Monday, June 5, 2023; last made contact (via text) with relatives on Tuesday morning, June 6, 2023; and was due to conclude his hike (and was reported missing on) Wednesday, June 7, 2023. He was last reported seen on Monday, June 5, west of Deer Park Campground.
Fraser was due in court on Friday, June 9, 2023 to face a felony domestic violence charge pertaining to an incident on July 4, 2022 where he allegedly threw his girlfriend on the ground and later slammed a door into her while playing a game with her and Fraser's daughter. The woman suffered broken ribs as a result of the incident. Fraser has maintained his innocence in the matter.
The domestic violence charge against Stanford biology professor Hunter Fraser was raised from a misdemeanor to a felony Tuesday morning at a Palo Alto Courthouse hearing. Fraser again pleaded not guilty.
stanforddaily.com
Fraser is 44 years old and 6-foot-3-inches tall. He has small scars on his head and chin. He was traveling with a "well-supplied" gray backpack and a teal, one-person Mountain Hardware "Solitude" tent.
According to the first article, "Anyone who was in the area of Slab Camp, Deer Park, Gray Wolf Trail, Cameron Creek Trail, or Grand Valley between June 5 and June 8 is asked to call NPS at 888-653-0009."