Joined

May 14, 2018
Messages

11,085
Reaction score

54,683
20-month-old Quinton Simon has been missing from his home in the 500 block of Buckhalter since 6 a.m. this morning. Reported missing at 9 a.m. Wearing a light blue Sesame Street shirt and black pants. Call 9-1-1 with info. More details will be released as we get them.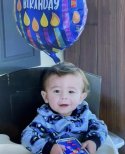 Log into Facebook to start sharing and connecting with your friends, family, and people you know.
www.facebook.com
UPDATE: 10/5/22 3:33 pm
"This is a fluid situation. All things are still possible. We don't have one concrete theory…all things are possible." Chatham County Police Chief Jeff Hadley.
Chief just met with the media. Here is the latest information:
CCPD dispatched at 9:42 am this morning to Quinton Simons' residence, where his mother reported him missing.
An Amber Alert was not issued because there is nothing to indicate at this time that the child was abducted—and, evidence of an abduction is necessary for an Amber Alert.
This does not appear to be a custody dispute, and all parties are cooperating with investigators.
We have responded to two calls for service at this home in the last two years. Neither were for a report of a missing child.
The search remains very active with K-9 units from the Liberty County Sheriff's Office, mounted patrol units from The Savannah Police Department, dozens of police officers from numerous agencies—including the Chatham County Sheriff's Office—currently conducting grid searches of the area. We've used our drone and Chatham County's helicopter for air searches. CEMA is assisting with coordination and operational needs.
We are focused on finding Quinton.
UPDATE : 10/5/22 2:48 pm
Buckhalter Road has re-opened to traffic.
UPDATE: 10/5/22 2:04 pm
We're shutting down Garrard Avenue between Chatham Parkway and Louis B Mills as we continue our search for Quinton Simon. Buckhalter Rd is closed between the overpass and Garrard.
UPDATE: 10/5/22 12:34 pm
We are continuing to actively search the area for Quinton. We are on foot, using a drone, and have the assistance of the Liberty County Sheriff's Office K-9 Unit. We'll continue to keep you posted.
There is now a dedicated Timeline/Media/Maps thread NO DISCUSSION for Quinton here:
GA - GA - Quinton Simon, 1, Savannah, 5 Oct 2022 TIMELINE/MEDIA/MAPS *NO DISCUSSION*

Thread #1
Thread #2
Thread #3
Last edited by a moderator: