Joined

Feb 4, 2014
Messages

4,100
Reaction score

29,342
I'm not too worried about finding blood evidence/DNA in his car. I've had a child throw up in my car and got it professionally cleaned TWICE, the second time they took the actual seat out, and I could still smell it sometimes. LE doesn't need a lot of blood and there are so many little nooks and crannies that are practically impossible to reach without dismantling the car. They'll find plenty, imo.
One place I'd think they'd find it is in the stitches where the seats are sewn together. Just look at how this car seat is sewn together. I'd think if they couldn't simply see any, or pick it up by swabbing (or whatever they do), I'd think you could pull out some of the stitches and I'd bet it could be found on the thread.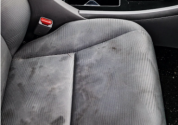 Source of pic (nothing interesting at the site. Just sourcing where I got the pic from):
Discover all pro tips how to clean car seats and get rid of stains.
www.fortador-usa.com