Joined

Feb 4, 2014
Messages

4,126
Reaction score

29,471
I heard this just now on CNBC financial news, yet can't find anything in writing so I'll have to say it's MOO as I cannot prove this at this time. Sometimes I hear news before it's hits online. Usually when I'm watching Asian financial news my evenings (their mornings).
The news anchor was Kelly Evans and she said that it was an unsecured bond and all they put up was their house. I believe she said it was worth $1.7M, although I could be wrong about that. I was quickly scribbling notes. She also said that that's all they'd lose (their house) if he skipped.
I guess I'm just not familiar with what an unsecured bond is, or why they could set an amount so high, yet all the parents had to do is put up something almost 1/15th of the value. What good is setting a bond amount if that's truly the case?
I'll update with a link if they hurry and print this somewhere while I still have the opportunity to edit. Meanwhile... it'll just haveta be MOO until then.
ETA - I am running out of time to find a MSM source but I'm pretty sure this is acceptable here. Appears he's a Politico columnist: Former federal prosecutor. Legal analyst for TV and print. Host,
#ItsComplicated
podcast. Columnist,
@POLITICOMag
. Partner
@BCLPlaw
.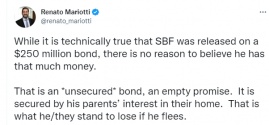 That's the best I can do!
Last edited: