Joined

Dec 30, 2021
Messages

824
Reaction score

3,756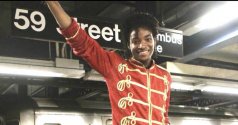 On the afternoon of May 1, 2023, former Michael Jackson impersonator Jordan Neely began acting in a "hostile and aggressive manner" while riding the F train in Manhattan. Sources say that he threw his jacket on the ground which made passengers move away. A witness said that Neely "started screaming in an aggressive manner...he said that he had no food, no drink, that he was tired, and doesn't care if he goes to jail." There are no signs that he physically assaulted or threatened anyone before a 24-year-old alleged former Marine grabbed Neely from behind.
The 24-year-old man then placed Neely in a fierce chokehold; Neely attempted to escape it for 2 minutes before his body stopped moving. 2 other subway riders held Neely down for another minute before one of them placed him on his back. The subway rider then moved Neely's body on its side to prevent him from choking on his saliva. Freelance journalist, Juan Alberto Vasquez, noticed Neely moved his arms before he completely stopped. The Medical Examiner's Office said Jordan Neely died from compression of the neck due to the chokehold and has labeled his death a homicide.
The NYPD detained the man behind Neely's death, questioned, and then released him which has generated anger. It has since been learned that Jordan Neely was homeless, had a history of mental illness, and had an active warrant out for his arrest due to felony assault.
The killing of Jordan Neely has caused considerable outrage. A rally was held on the same subway platform where Neely died 2 days later to demand justice and for more social services for people in need. Governor Kathy Hochul and Mayor Eric Adams have been accused of being complicit in Neely's killing by criminalizing the city's mentally unwell while at the same time doing nothing about the lack of affordable housing. The NYPD was accused of incompetence for releasing Neely's killer.
<modsnip - not an approved source>
What We Know About the Death of Jordan Neely
Medical examiner rules Jordan Neely's death a homicide after subway chokehold
<modsnip - not an approved source>
Outrage simmers in New York after the killing of Jordan Neely on a subway train
MEDIA, MAPS & TIMELINE *NO DISCUSSION* THREAD
Thread #1
Last edited by a moderator: